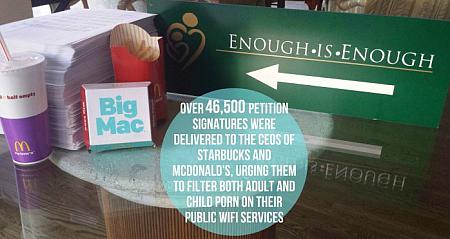 The Enough Is Enough® mission is to Make the Internet Safer for Children and Families. EIE is dedicated to continuing to raise public awareness about online dangers, specifically the dangers of Internet pornography and sexual predators. EIE advances solutions that promote equality, fairness, and respect for human dignity with shared responsibility between the public, technology, and the law. EIE stands for freedom of speech as defined by the Constitution of the United States; for a culture where all people are respected and valued; for a childhood with a protected age of innocence; for healthy sexuality; and, for a society free from sexual exploitation.
Project Wilberforce: To end the Internet-enabled sexual exploitation of children and adults and restore a culture of dignity and respect. The following campaigns are part of "Project Wilberforce":

The National P*rn Free WiFiTM Campaign (www.friendlyfreewifi.org): The campaign urges McDonald's and Starbucks and the rest of corporate America to filter child p*rnography and hard-core p*rnography on their public WiFi services. Click here to sign petition.
Public Health Pandemic Campaign: EIE is working with a broad coalition of organizations together with professionals from the medical, psychiatry, psychology, sociology and legal communities to elevate the social costs of extreme p*rnography to a rapidly growing public health pandemic.

Industry Initiatives: EIE works in close partnerships with Internet industry giants to improve upon corporate best practices, policies, safety features and public education efforts.
Award-winning Internet Safety 101 Program Initiatives: We continue to make the 101 multi-media Program available both in the U.S. and abroad. To learn more or order the program click here
Public Awareness and Education: EIE historically reaches between 35-50 million households annually through earned media and remains the 'go to' Internet safety expert for national media outlets. Click here to stay informed.
Public Policy and Law Enforcement Efforts: Promoting legal solutions that call for aggressive enforcement of existing laws and enactment of new laws to prevent the online exploitation and victimization of children.