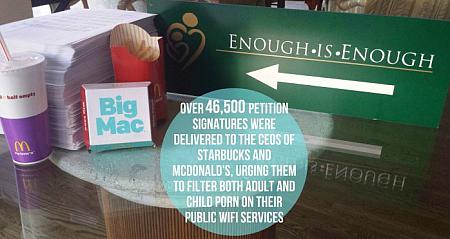 Dear Friends,
Thanks to your support, we have started a movement!
On Monday of this week, over 46,500 Americans and 75 partnering organizations, joined Enough Is Enough® in sending an urgent petition to McDonald's and Starbucks to offer safe WiFi in their combined 25,000 U.S. locations.
It's time Starbucks and McDonald's filter their public WiFi services and not just their coffee. P*rn Free WiFiTM is a win-win for families and the companies' respective brands. This is not about censorship; it's about corporate responsibility and good corporate citizenship - and most importantly, about safety for all patrons.
These companies already filter both child p*rn and p*rnography on their public WiFi in the UK and other nations. Now millions of Americans have joined us in requesting that these companies offer American children the same level of protection as they do for children overseas. Plus, Chick-fil-A, Panera Bread and others have been filtering their WiFi in the U.S. for years.
The petitions, delivered before Starbucks' annual shareholders meeting, which is taking place today, were accompanied by a detailed letter to the companies' respective CEO's and Boards of Directors. See here.
I included the following information in my follow-up letters below:
Prevent children, teens and other patrons from being exposed to p*rnography and child p*rnography when using WiFi services;
Prevent children and teens from easily bypassing filters and other parental control tools set up by their parents on their smart phones, tablets and laptops by logging onto open hotspots;
Prevent sexual predators from accessing illegal child p*rnography and flying under the radar of law enforcement by using public WiFi services;
Avoid a potential hostile work environment for restaurant/cafe employees;
Reinforce a hard-earned and well deserved family-friendly corporate brand;
Establish McDonald's and Starbucks as leaders of WiFi safety policies and effective filtering in the U.S. as in the UK; and
Maintain consistency regarding corporate best practices and family-friendly policies.
Our P*rn Free WiFi movement is growing. We need your financial support to continue our momentum on these critical efforts. We cannot do this important work without the vital resources you can provide. Will you support us today? Donate here.
Thank you for taking action!
For the sake of children and families,
Donna Rice Hughes
President & CEO
Enough Is Enough®
Making the Internet safer for children and families
www.enough.org; www.internetsafety101.org, www.friendlywifi,org